12, 13, 15, 17 seater Traveler Booking - Affordable & Reliable Service
13 Seater traveller
13 Seater Traveller
Upto 8 - 10 Small bags
With AC Rs. 30/Km
Toll Tax, Parking, Permit, Border State Entry Taxes excluded
300 Kms Avg/Day
17 Seater traveller
17 Seater Traveller
Upto 10-12 Small bags
With AC Rs. 33/Km
Toll Tax, Parking, Permit, Border State Entry Taxes excluded
300 Kms Avg/Day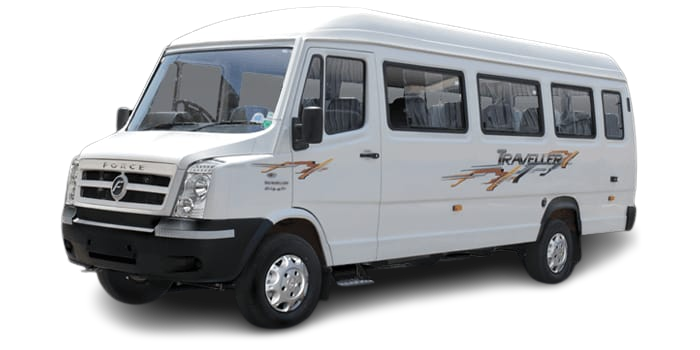 20 Seater traveller
20 Seater Traveller
Upto 10- 14 Small bags
With AC Rs. 35/Km
Toll Tax, Parking, Permit, Border State Entry Taxes excluded
300 Kms Avg/Day
Welcome to our Family Trips and Picnics Segment!
At Ashish Taxi Service, we are excited to introduce our new segment dedicated to providing exceptional travel experiences for families, picnics, and sightseeing adventures. Whether you're planning a day trip, a weekend getaway, or an extended vacation, our services are designed to cater to your specific needs and create lasting memories. Here's why you should choose Ashish Taxi Service for your family trips, picnics, and sightseeing:
Comfortable and Spacious Vehicles: Our fleet consists of spacious vehicles that can accommodate families of all sizes. With ample legroom, comfortable seating, and modern amenities, our vehicles ensure a pleasant and relaxing journey for everyone.

Expert Drivers: Our experienced and professional drivers are not only skilled at navigating the roads but also understand the importance of safety and customer satisfaction. They will ensure a smooth and enjoyable travel experience, taking care of all your transportation needs.

Customizable Itineraries: We believe that every family trip, picnic, or sightseeing adventure is unique. That's why we offer customizable itineraries tailored to your preferences and interests. Our team can assist you in planning the perfect route, suggesting popular attractions, and incorporating your desired stops along the way.

Memorable Family Experiences: We are dedicated to creating memorable experiences for you and your loved ones. Whether it's exploring scenic destinations, discovering local attractions, or enjoying a fun-filled picnic, our services are designed to enhance your family bonding and create cherished moments.

Hassle-Free Planning: Planning a family trip or picnic can be time-consuming and overwhelming. With Ashish Taxi Service, we take care of the transportation logistics, allowing you to focus on enjoying your time with your family. Sit back, relax, and leave the transportation details to us.

Competitive Pricing: We understand the importance of providing value for money. Our family trip, picnic, and sightseeing services are competitively priced, ensuring you get the best service at affordable rates. We offer transparent pricing with no hidden charges, giving you peace of mind while planning your excursion.
Embark on an Unforgettable Journey!
Book your family trip, picnic, or sightseeing adventure with Ashish Taxi Service and embark on an unforgettable journey filled with joy, laughter, and precious moments. Contact us today to discuss your requirements, customize your itinerary, and experience the convenience, comfort, and reliability of our services. Let's create beautiful memories together!
Jitendra Patil
2. April, 2021.
Paplay Ghosh
28. March, 2021.
Aditya Shrivastava
19. March, 2021.
Shailendra Gupta
16. March, 2021.
Samir Kumar
14. March, 2021.
Very happy with the service and had a great experience. I needed to book a cab for my brother. He was traveling due to some emergency . Did the booking via phone and online payment.it was very convenient and all the services were provided with professionalism and on-time. The cab was very clean and driver was also polite. Overall, I will definitely recommend Ashish Taxi service and very satisfied with the services
M.V. Ranga Rao
20. February, 2021.
Naresh Behl
6. February, 2021.
sumeet agarwal
5. February, 2021.
Good service and very professional.
Golu Sahu
27. January, 2021.
anant sona
23. January, 2021.
24/7 Customer
Service
A Dedicated 24x7 Customer Service Team Is Usually At Your Service To Assist Solve Any Problem. 
©2023. Ashish Taxi Service. All Rights Reserved.